02.08.18
Fabulous February is here & it has been fabulous!  Normally here in Branson things are slow, even quiet, but not  this year!  Jan. 19th I hit the road with Spoken 4 Quartet & traveled to Galveston, TX where we boarded Carnival Cruise ship 'Breeze'!  We had 4 shows in 7 days with ports of call in Cozumel, Belize, & Honduras!  Even Gma Beulah played tourist on the beaches of Mahogany Bay, Roatan Honduras!
The second we disembarked the ship in Galveston, I was in an Uber & on my to Houston, TX. to board a plane & fly to Charlotte, N.C..  There I joined CJ & Chris Newsom for the ABA ~ American Bus Association convention to invite them to bring their tour coaches to see CJ Newsom's Classic Country & Comedy show (Formerly known as Classic Country's Patsy Cline & Friends show)!  It was a major success & then we took our time driving back to Branson!
We made stops in Asheville, N.C. to visit the Biltmore Estate…
 Then Pigeon Forge to take a private tour of Dollywood… 
Next was Nashville to see the Grand Ole Opry!  It had been 29 years since I was in the Opryland studios, this is where I filmed 13 episodes of 'Hee Haw' the fall of 1989!  We visited the Patsy Cline museum where we were honored to meet & visit with Julie Fudge ~ Patsy's daughter!
After a long trip in snow & icy roads on Sunday, we hit the ground running on Monday!  CJ & I (As Barney Fife) were celebrity judges for the annual MOB 'Soup-er Bowl' where we taste-tested/judged 34 bowls of soup!
Friday & Saturday, Feb. 9th & 10th, CJ & I appeared at the Liberty Theatre in Hartshorne, OK. for their annual Valentine's Day dinner & show at 6:30 PM on both Friday & Saturday night!  Sunday morning we left McAllister, OK & headed to Cushing, OK. where we made an appearance at the First Church of God at 10:30 AM!  A great time was had by all & thanks to Pastor Kevin Clouse for allowing us to do the service with song, testimony, & humor too!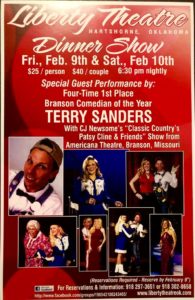 Feb. 14th ~ Valentine's Day
I hosted Big Cedar's 'Not So Newlywed Game' as 'Joan of the Ozarks'.
Thursday, Feb. 15th
I played Barney Fife' for our 1st MDA 'Lock-Up' of 2018 at the Angus Branch Steakhouse in Monett, MO. 10 AM – 3 PM & we had a GREAT time, plus the 'jail-birds raised more bail money than ever before!  "Thank you!" Monett, MO.!
Fri., Feb. 16th
I was 'Terry the Tour Guide' from the Vacation Channel for the Annual Builders Show at the Chateau on the Lake in Branson.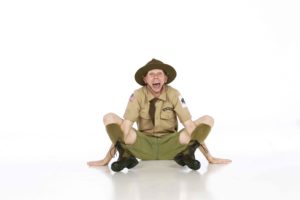 Sat., Feb. 17th
I was in Kansas City for 'Planet-con' with my son Austin ~ we saw several stars, John Cusack, Alice Cooper, & Danny Trejo!  
Sat. Feb. 17th
I was back at Big Cedar Lodge for another fun-filled evening hosting 'The Not So Newlywed Game' as 'Joan of the Ozarks' again!
Sat., Feb. 24th we have orientation for Silver Dollar City's 2018 season ~ We open on Thurs., March 14th!  I have never been bored!
More details to follow!  Thanks for following me along this Fabulous February & life!  
Always, Terry 'Homer Lee' Sanders