12.01.17
December, the last month of the year & possibly the most exciting & crazy! Just like Branson, MO ~ Exciting & Crazy!  
Merry Christmas!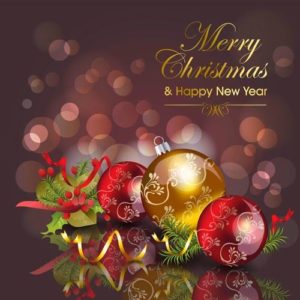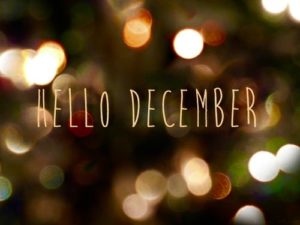 This is my 38th season to perform in this lovely town & throughout the midwest!  I want to wish you & yours a very Merry Christmas & a Happy & prosperous New Year ~ 2018!
Where can you find me?
You can find me in my 38th season entertaining at Silver Dollar City ~ Right now I'm playing 'Clarence Peabody' Santa's helper every day they are open until Dec. 23rd (Our last day with Santa).  Dec. 26th – Jan. 1st I'll be taking care of the wonderful folks who want to ride the Frisco Silver Dollar Rail Line sing-along steam train!
This is my 2nd year to be the comedian in 'Classic Country's Patsy Cline & Friends Show at the Americana Theatre every Tues., Thurs., & Sun. night at 7:30 PM right here in Branson!  Our last regular show is Thurs., Dec. 14th.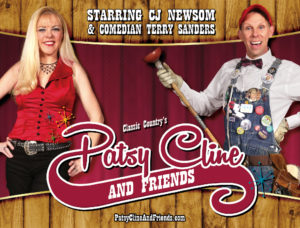 BIG NEWS…
We will host the Americana Theatre's New Year's Eve party/celebration/show with yours truly emceeing this extravaganza!  Our festivities start with dinner catered by Shorty Small's Restaurant, the big blow-out begins at 9 PM & ends a little after midnight!  We will feature CJ Newsom the star of her own show, 'Classic Country's Patsy Cline & Friends', Billy Yates award winning singer/songwriter who stars in 'Raiding the Country Vault', Nedgra Culp who stars in Legends In Concert, & Janice Martin who has her own show 'Janice Martin's Cirque Show'.  She was featured on America's Got Talent!

Where else can you find me?
I make a ton of personal appearances so…  Please check my Personal Appearance page.
Need the PERFECT stocking stuffer?
Here it is… Our 2016 'Homer Lee & Friends ~ Christmas Homecoming!  With special guests, Spoken 4 Quartet, Pure Heart, & from 'The Brady Bunch' Barry 'Greg Brady' Williams!  
Filmed before a live audience at Hamners' Variety Theatre in Branson, MO! Homer Lee, Grandma Beulah & their guest stars Spoken 4 Quartet, Pure Heart, Ezrah Noelle & Rosie Cheek, Miki Cunningham, Dylan Pratt, & SANTA himself! This is 2 shows in 1! The first half is family gathering at Grandma Beulah's home for the holidays & practicing for the BIG show! Pure comedy & your favorite Christmas songs ensue! Plus, see 'The 12 Days of Christmas' like you've never seen it before! The second half has the true joy of the holidays & the real meaning of Christmas! This is a DVD you will watch all year long! Only $20.00 & FREE postage/handling!
Just go to  my DVD page & order yours TODAY!
Don't like cold weather?
Join me with the Spoken 4 Quartet as we take a cruise Jan. 21st – 28th, 2018!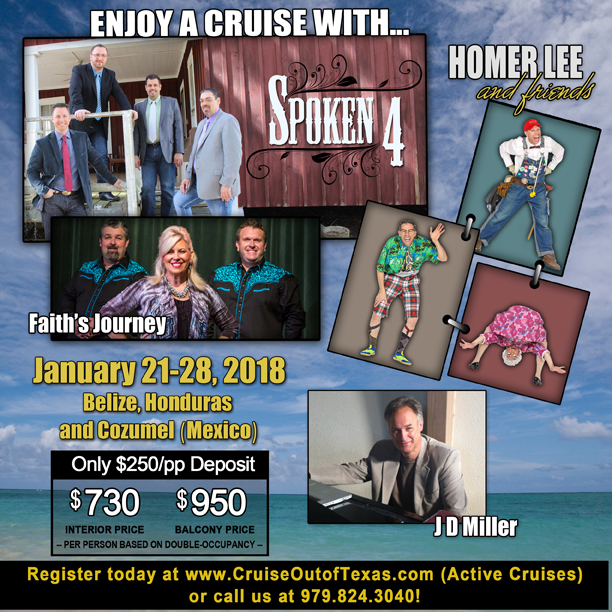 Thank you!
Thank you for ALL your love & support over the years, my family & I truly appreciate it & wish you & yours only the best in 2018!  
Merry Christmas!
Always,
Terry 'Homer Lee' Sanders