02.01.17
Fast is right!  It's already February & I am furiously working more than ever before at this time of the season!  2017 is going to be an amazing year here in Branson!  It's my 38th season to perform in this entertainment capital of the world!  As usual, you can find me ALL over Branson & the surrounding area.  A couple of weeks ago I was performing in Cleveland, OH., last weekend I was performing in Sebring, FL., this Sunday I'll be in Nixa MO… Check out my 2017 Personal Appearances page for my whereabouts.  I will keep up-dating it as schedules are confirmed.
Where Will I Be in 2017?
Today ~ Thursday, Feb. 16th, 2017
Thursday, Feb 16th I'll be 'Barney Fife' for the MDA in Monett, MO 9 AM -3 PM
Tues., Feb. 14th I did a PRIVATE show with CJ & Chris Newsom in Mtn. Home, ARK. for the 1st Security Bank 'Go Club'!
Fri. Feb. 10th & Sat. Feb. 11th ~ My 5th year in a row to perform at the the ANNUAL Valentine's Day Dinner & Show in Hartshorne, OK at the Liberty Theatre!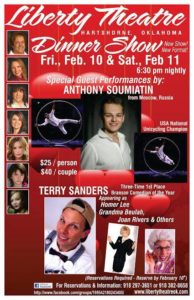 Wed., Feb. 8th I taped 'The Kevin Shorey Show' at the Branson Mill at 11 AM with my friend & the star of her own show, 'Classic Country's Patsy Cline & Friends Show', CJ Newsom!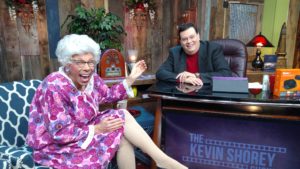 Feb. 7th, Rolla, MO at the school as 'Barney Fife' for the MDA 'Lock-Up'! 10 AM – 3 PM!

Feb. 6th
CJ Newsom & I judged for MOB's Soup-er Bowl Challenge at 5:30 PM in Springfield, MO at Relics Event Center
2015 W. Battlefield!  We tasted 32 bowls of soup!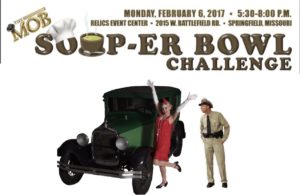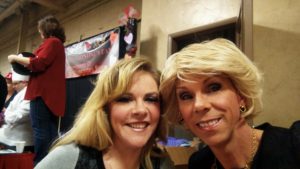 Feb 4th:
I was in Nixa, MO for a fundraiser 2-4 PM ~North Nixa Baptist Church
1730 N State Highway CC, Nixa, MO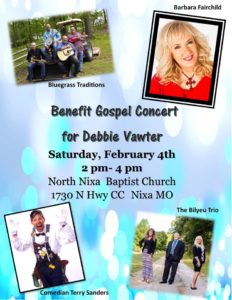 Silver Dollar City

~

My 38th season – portraying 4 characters a day starting March 15!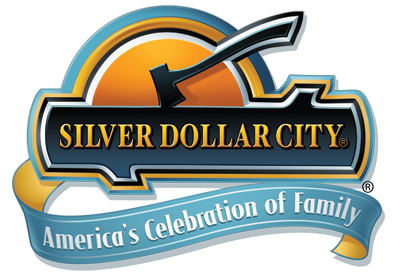 Classic Country's Patsy Cline & Friends

~
I'm honored to be the comedian with the talented CJ Newsom who does a wonderful tribute to Patsy, but also sings some Dolly, Reba, etc…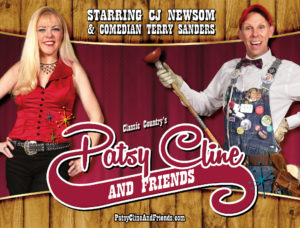 The Shepherd of the Hills Play

~

This will be my 16th season to play 2 characters in America's oldest outdoor drama ~ I'll be 'Ollie' & 'Doc'


The Vacation Channel

~

This is my 18th year to have my hour-long TV show called 'Branson Country' as Terry the Tour Guide & many other characters…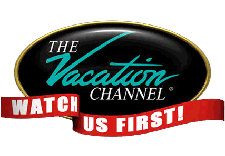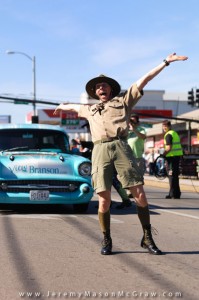 The Baker Creek Seed Company

~
In the middle of the country in Mansfield, MO you can find me the 1st Sunday of every month (ALMOST) as several characters!
The Muscular Dystrophy Association

~
I play 'Barney Fife' for the MDA 'Lock-ups' throughout southern MO.  Check my 2017 Personal Appearances page.  This month, February I will be in Rolla, MO on…
Tuesday, February 7th & Thursday, February 16 in Monett, MO.!  
Treasure Lake Resort

~
I will be making appearances at Treasure Lake Resort too so check out my 2017 Personal Appearances page.
Big Cedar Lodge

~
I make appearances throughout the season at Big Cedar Lodge too!

Facebook

~
Also you can keep up with me on Facebook at;
Terry Wayne Sanders, Branson's Tour Guide, & Ada Mae
Personal Appearances

~
Plus, I make a ton of personal appearances so if you want me at your next company party, or any type of event contact me!
Friday, February 10th & 11th you can see me on stage at the Liberty Theatre in Hartshorn, OK for their annual Valentine's Day dinner & show!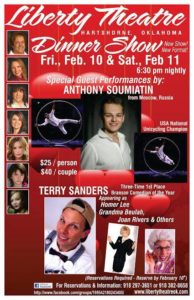 It's here! Homer Lee & Friends ~

Christmas Homecoming

!
December 11th we had the most AMAZING time with Spoken 4 Quartet, Pure Heart, Ezrah Noelle, Rosie Cheek, Dylan Pratt, & Santa Claus himself!  Order your copy for ONLY $20.00!  Free shipping, handling, & postage!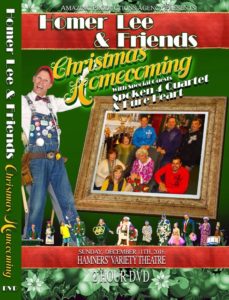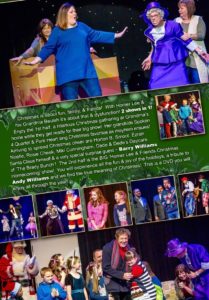 Thanks for dropping in this winter & I look forward to seeing you here in Branson at 1 of my jobs or on the road!
Always, 
Terry 'Homer Lee' Sanders