12.28.09
What?  2010 is on the way?
It's hard to believe that is true, but it is only 2 more days!  I am looking forward to 2010 here in Branson.  This will be my 31st season at Silver Dollar City & I will be playing a plethora (Isn't that a big word?  I don't know what it means, but it's big) of characters over the 56 acre 1800s theme park.  They have a new water based ride called, 'Tom & Huck's River Blast'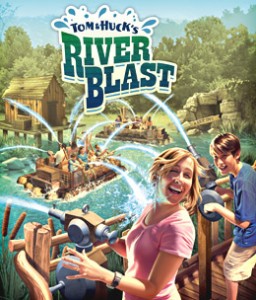 !
Silver Dollar City is saying it is… America's Biggest Water Battle! Tom and Huck have hatched a plan to take unsuspecting passengers on a REAL river adventure. Get ready to take aim at the water-armed adversaries that surround your river raft. It's waterlogged chaos!
It will be located where the carousel, balloon ride, & Tom Sawyer's Landing were & it will be ready in time for  Silver Dollar City's grand celebration for their 50th anniversary!  If you like to get wet & have fun, this will be for you!
2010 will be my 4th year at 'The Shepherd of the Hills' play. Last year I was 'Doc' (The old man who's catch-phrase is, "What would Sarah & the girls say?") 4 nights a week & 'Ollie' (The young man in the old car) 3 nights a week.  My wife, Dede & our 2 sons will be back there too.
This will be my 13th year on The Vacation Channel with my own hour-long TV show.  It's called. 'Branson Country' & I play Terry the Tour Guide.  I have such a great time filming that show too!
Things are slowly turning around & I truly believe 2010 will be a much better year for everyone.  I have many personal appearances coming up & that page will be up-dated on those dates as soon as the contracts are signed & sealed!  Don't forget…  I have BIG news coming to this site on New Year's Day!  That's right, January 1st come back here & find out!
If you are wanting to see me this last day at Silver Dollar City, well, if you ride the steam train & watch 'Grandpa' telling the story out in the woods, & you like the lighted scene behind him…  That's me doing the lights from an old cabin!
Thanks for visiting with me here at Homerlee.com, it means the world to me!  Take care & have a safe & special Happy New Year!  Always, Terry 'Homer Lee' Sanders