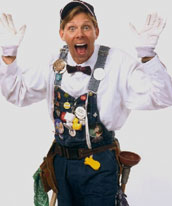 Homer Lee is none other than Branson, Missouri's favorite, Terry Wayne Sanders. He's a native of Mountain Grove, Missouri and is still going strong in his 29th year as a comedic headliner.
Entertaining literally millions of people just like you at Silver Dollar City (an 1880's themed park in Branson) with a wide range of characters has afforded Terry "Homer Lee" Sanders the opportunity to work with Dolly Parton, Kenny Rogers and the late Bob Hope.
On Tues. Oct. 30th, 2007 Terry received, for the third year in a row, the title 'COMEDIAN OF THE YEAR!'!
A veteran in films with Annie Potts, Tim Curry and Leslie Nielsen, Terry prefers the one-on-one touch and intimacy with audiences in live performances. In addition to his regular performances at Silver Dollar City and in The Shepherd of the Hills play in Branson playing several roles, Terry plays 'Grandma Beulah' in Doug Gabriel's talent contest Branson Spotlight during the summer months at the Jim Stafford Theater. 'Grandma Beulah'... Terry, is one of 3 full-time judges in this amazing talent search!
Mr. Sanders was the comedian at the Braschler Music Show for 17 years. His comedy antics with the Braschlers earned him a regular spot on television's Hee Haw where he worked exclusively with Roy Clark, Grandpa Jones and Minnie Pearl. Since ten he's had the pleasure of working for many shows in Branson, MO. like Pierce Arrow, The Grand Jubilee, & The Branson Brothers Show.
And don't forget about the second generation, Terry's sons, Austin & Evan Sanders They performed as "Little Pete" in America's #1 outdoor drama 'The Shepherd of the Hills'.
Terry's an avid "people watcher" and uses his keen observations of day-to-day life to keep his material fresh and his audiences in stitches. It was Minnie Pearl who said it best, "He's (Terry "Homer Lee" Sanders) one of the best and honey, I've seen a lot!"