* * Newly Released – Triple DVD Set * *
Newly released


'HOMER LEE & FRIENDS REUNION SHOW' 2012!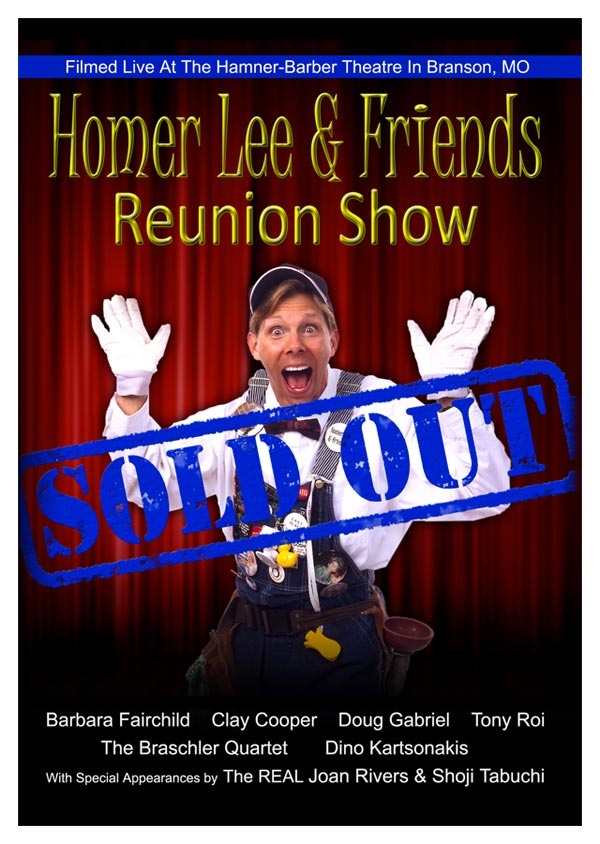 Filmed before a live SOLD-OUT crowd at the Hamner-Barber Theatre on Sunday, August 26th, 2012. Homer Lee & many of his Branson friends have gotten together for a 'reunion' show that will be talked about for years to come! Join Terry 'Homer Lee' Sanders & his many personas (Homer Lee, Fred Smoot, Shoji Tabuchi, Joan Rivers, & Gma Beulah) along with Barbara Fairchild, Clay Cooper, Tony Roi, Doug Gabriel, The Braschler Quartet, 4 of the female singers from the Braschler Music Show, the Braschler band, Brad Bacon, cast members from the 'Corn Crib Theatre' 'Toby Show', Bob Leftridge, & many more!
Plus, special appearances from the REAL Joan Rivers, the REAL Shoji Tabuchi, Dino Kartsonakis, Gary Wilkinson of the Wilkinson Brothers, & some Branson folks you have loved over the years!
This TRIPLE DVD set is only $25.00 including all shipping/handling! But wait, buy 2 or more & they are only $20.00 each!
Christmas is around the corner so get 1 for you & stocking stuffers for the rest of your family & friends who love & remember 'Homer Lee' & all his Branson friends in this 1-time ONLY reunion of love, laughter, & memories of Terry's 33 years in show business!
---

"The 25th Anniversary of the Many Faces of Terry Wayne Sanders"
It's here! "The 25th Anniversary of the Many Faces of Terry Wayne Sanders." Branson's favorite comedian has done it again & this time in style. Here is his most recent project, a 3-hour double DVD set. All of his work over his 25 years in show business. See Terry in action at every one of his jobs! At Silver Dollar City as 'Deputy Birdy Tweedle', 'Mr. M. Balmer', & 'Ickibod the Scarecrow'. On the stages of Branson including his last 4 comedy routines with the Braschler Music Show as 'Gma Beulah', 'Grandpa Tabuchi' (Shoji's Grandfather), 'Homer Lee', & 'Cher'. Yes, he's Cher like you've never seen her before & you won't believe the outfit he has on. Those boots really are 7 & 1/2 inches tall! Here's your chance to see him as 'Terry the Tour Guide' a character that he's played now for 13 years in his own TV show called 'Branson Country' with his 2 sons, Austin & Evan on The Vacation Channel. Also see him as 'Ollie Stewart' in the Shepherd of the Hills outdoor pageant. And, as you've never seen him before, as 'Mrs. Ida Wheeler' from the same play. The cast had no idea he was going to play this role! In 1989 Terry was cast in the longest running variety TV show 'Hee Haw' & here is a look at him on nationwide TV with some behind the scenes scoop. Plus, see Terry's many TV commercials, TV appearances, movies, etc. It has guest stars too! Jim Stafford, the Oak Ridge Boys, & many surprises. Plus a special tribute to Mr. 'Shad' Heller. This is an incredible 3-hour double DVD with the most outrageous out takes you've ever seen! This is the one DVD that you must have! The 3-hour double DVD set is only $20.00 & FREE shipping!